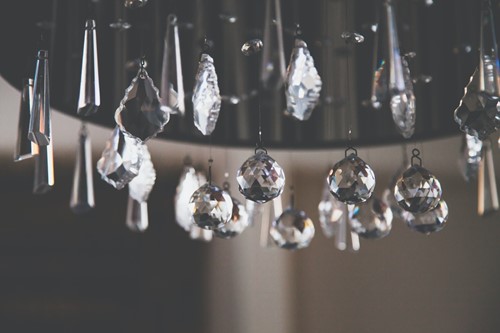 Shabby chic is a style of interior design that celebrates a mix of elegance and comfort. While many other "cozy" interior design styles err on the casual side, shabby chic stands out with sophisticated and luxurious elements—with a vintage twist. If you're looking for a new style to incorporate into your personal decor, we'll go over some easy ways to bring the shabby chic style home.
Start Light & Neutral
Shabby chic begins with a clean neutral baseline. That's why for things like wall color, flooring and large furniture pieces you will want to opt for shades of white, gray, cream and light beige. While you can go darker and bolder for wall color for a more modern spin on the style, you'll miss the bright and comfortable contrast that comes from the light neutral backdrop paired with the detail and personality brought into the room by smaller pieces.
To keep larger furniture pieces from feeling bland, pay attention to texture. The right textiles can make all the difference in the mood of a room. Bright white curtains in lightweight or even sheer fabrics will let in natural light to make the space feel brighter and more open.
Go Vintage (or Faux Vintage)
If you enjoy shopping at thrift stores, shabby chic is the perfect style for you. To achieve a true shabby chic aesthetic in any room, opt for distressed materials and furnishings that show their age with charm. Patina, oxidized copper and weathered wood finishes are essential. If you can't find real vintage pieces, you can always mimic the look with a clever paint and sanding job. There are also many vendors on the market who can help you cater to this style with brand new faux vintage items.
When in doubt, go for items that have embellishment and luxurious details. Consider things like lighting as well as seating and surfaces. A classic way to achieve shabby chic aesthetic in a room is with a vintage chandelier.
Add Detail & Character Without Clutter
Another key element of shabby chic design is a perfect balance between ornate detail and clutter. Mixing collectables, art, accessories and other decor will give the room character and fun detail. However, to avoid looking too busy, try choosing specific pieces as focal points and designing around them. You want the decor to feel casual but lovingly collected over time, not random or messy.
Some specific ideas for accessories and smaller decor include weathered wooden or metal picture frames, vintage lamps or candlesticks with plenty of pertinent an eclectic gallery wall of your favorite art. For patterns and motif, floral and delicate lace are always an excellent choice. Cozy fabrics like cotton and linen will keep the style grounded while touches of ornate lace or velvet will add luxury.
Shabby chic has evolved to incorporate more aspects of our modern style, but many things remain the same. These key elements will help guide you in creating your own version of this popular interior design style. With these tips and a bit of creativity, you can make any room in your home a comfortable and stylish environment.