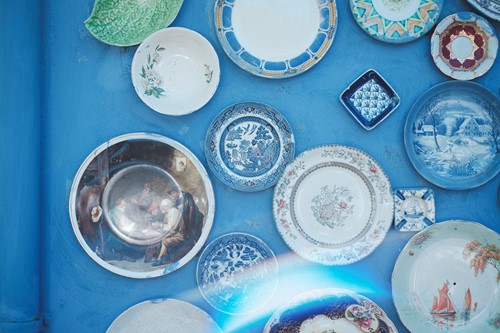 When it comes to decorating, a blank wall is a blank canvas. However, it's difficult to know how to use the space in an aesthetically pleasing way. You might have limitless possibilities, but where do you start? If you're looking for ways to decorate an empty wall, we've put together some ideas to guide you.
Gallery Walls Are for More Than Just Art
Creating a gallery wall doesn't mean you need an expansive art or photo collection. In fact, a "gallery wall" actually refers to a collection of similar items arranged together on a wall as if you were creating a gallery. The items can be art pieces, photographs, mirrors or even other objects like baskets or empty frames. You can even combine different items around a theme or color for a more eclectic look. It all depends on the specific style you're going for.
Here are some more ideas for items to display in a gallery wall:
Dishes and plates

Clocks

Baskets

Hats

Mirrors
Try Hanging Textiles
Textiles are an incredibly efficient way to decorate a wall. This is mostly because they take up a lot of space—quilts, tapestries and cloth prints are large enough to take up the entire wall. However, there are also lots of size and shape options for textiles, especially if you are willing to DIY. If you are going for a lightweight tapestry or print, attach it to the wall in a way that will prevent sagging. The best way to do this is with staples or adhesive strips. If you want a neat and tidy aesthetic, attach the bottom of the piece to the wall as well. Otherwise, let it hang freely for a more casual boho vibe.
Get Creative With Floating Shelves
Floating shelves are useful but can also be perfect for decoration. What could be better than combining storage and style? There are a lot of options for floating shelves in a variety of materials and styles. However, the best thing about adding a floating shelf is that you're creating an extra space for decoration. If you want the pieces on the shelf to be the focus, go for neutral shelves that match the color of the wall. Otherwise, you can make a bold statement with a contrasting color and geometric shapes.
Floating shelves give you an opportunity to show off personal items and smaller decorative pieces. Try mixing items of different shapes and sizes like books, glass bottles and jars, candles and photo frames. You can stick to a theme or go completely eclectic depending on your style preference. No matter what, you'll be creating visual interest and effectively using the empty wall space.
For many, the concept of a blank canvas is overwhelming. After all, how do you know where to start? Luckily there are simple ways to decorate an empty wall even if you don't have art to display. With these tips, you can experiment in your own space to add style and create a design that's all your own.