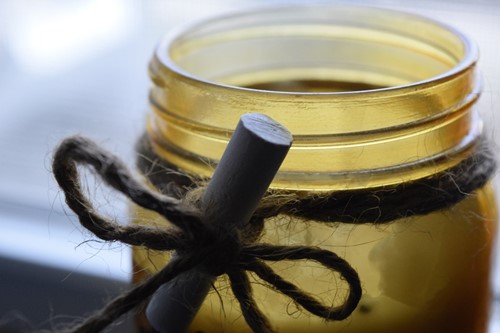 Rustic farmhouse style celebrates all things natural and comfortable. While relatively uncomplicated, the style does shine through decorative accessories and larger pieces. Here we'll go over some ideas for DIY projects you can do to enhance or add the rustic farmhouse style to your interior spaces.
Dress Up an Old Ladder
Ladders are a popular trend in interior design, used in everything from bookcases to pure decoration. One of the easiest ways to turn a wooden ladder into a rustic farmhouse decor is to use it as a blanket or towel rack. Hang chunky knit throw blankets over several rungs to add coziness to your living room or use it to hang hand towels in your kitchen or bathroom.
Wrap It in Twine
Twine is a favorite among DIY experts creating a rustic farmhouse feel in their home. Adding a few loops of twine around flower pots, mason jars and other small items will transform them instantly and create a cozy, rough-hewn vibe. Another way to use twine is to accent drawer pulls and handles. Wrap them in twine and secure with hot glue and you'll add rustic charm to the entire space.
Build a Basket Centerpiece
If you're searching for a simple DIY project to enhance the aesthetic of a table, try making a simple rectangular basket out of paint sticks. Sand or paint over any graphics or lettering for a clean start, then lattice them together using either hot glue or a staple gun. Once you have the basket you can get creative with the contents to make a unique and charming centerpiece.
Mason Jars for Everything
Mason jars are incredibly useful for DIY projects and fit perfectly with the rustic farmhouse style. A popular DIY project is to create lanterns with mason jars and tea light candles, but you can also use them to display fresh (or faux) flowers, store utensils or to drink out of. Dress up plain jars with homemade canning labels or wrap them in twine for a rustic vibe. For an easy and inexpensive decoration, collect a handful of sticks from your yard and arrange them in the jar as you would flowers.
Style Your Storage
One thing that makes the rustic farmhouse style so easy to adopt is its love for practicality. Simple necessities with rough-hewn details are key and one of the easiest ways to achieve the aesthetic and improve organization is to bring the style to your storage. Try attaching small wire baskets to planks of reclaimed wood to hang for storing smaller items while saving space. You can re-use the paint stick basket idea to store spices and kitchen items you want close by or to organize inside of cabinets and drawers.
Once you begin to use the rustic farmhouse style in your home, you will recognize more DIY opportunities. Stick with natural materials and add charm to necessities and you will create a charming and cozy atmosphere and perfect rustic farmhouse design.